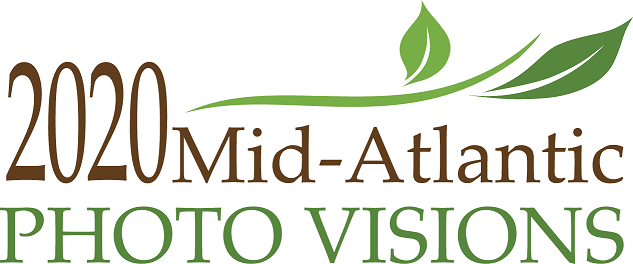 What: Mid-Atlantic Photo Visions 2020
When: November 7, 2020
Where: On Line
More details:
This year due to the pandemic Mid-Atlantic Photo Visions will be held on line.
Virtual Sessions
Join us on November 7, 2020 for our two FREE sessions.
Session One: November 7, 2020, 1:00 – 2:00 p.m.
Rick Sammon – How to Get Motivated and Stay Inspired
Session Two: November 7, 2020, 4:30 – 6:30 p.m.
Kristi Odom – Photographing Local Biodiversity
Kristi's session starts with the MAPV Photo Contest Awards Ceremony!
Mid-Atlantic Photo Visions is normally a three day educational event held every year on the
George Mason University campus and is sponsored by the area's Camera Clubs, including our
club. It is open to the public and designed for all photographers from beginners to professionals.
Mid-Atlantic Photo Visions is comprised of lectures, workshops, photography equipment vendors and a photo competition.
Everyone in the club is encouraged to attend the Expo AND participate in the photo competition.
You can to submit up to 12 images to the competition at no cost:
6 in various Nature categories (Macro, Water, Landscapes, Birds, Wildlife, Flora);
6 in various Photo Art categories that will vary every year.
The deadline for submissions to the competition this year is past.
NIHCC members will receive a discount on registration for the conference.
More information: